Marine Engineering refers to the engineering of boats, ships, oil rigs and / or any other marine vessels.  In a way their area or work and most part of the life is surrounded by water. It is a difficult task but any person who wishes to become a marine engineer has to have a basic qualification, that is, he should have at least a bachelor's degree and in some of the cases a 10+2 grade is accepted and the salary provided to them is up to Rs.4lacs per month, while an engineer trainee can expect a salary of Rs.30,000 to 40,000 per month.

Marine Engineers are the group of engineers dealing with the nautical architecture and science. It is based on the research conducted in oceans and coastal or inland waters connected to the sea. Marine engineers have the entire responsibility of the ships technical management and are responsible for selecting the ships machinery such as steam turbines, gas turbines and diesel engines for designing of mechanical, electrical, fluid and control systems throughout the vessel. The engineering service also includes construction, operation and maintenance of the operation that are said to be the important sectors of the engineering service.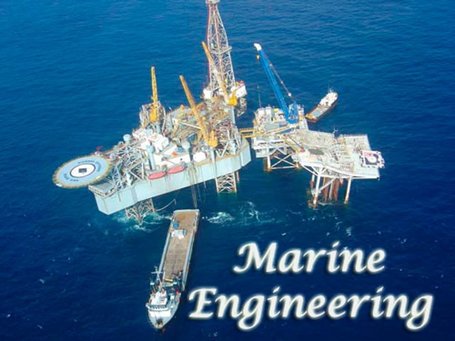 Marine engineering also comprises the engineering services that includes anthropology, engineering, archaeology, sociology and other related studies of human relationships connected with the sea. There are several subtitles given to the marine engineers giving engineering service such as the "pump man", 'harbor master', 'chief engineer', 'second engineer', 'third engineer', 'fourth engineer' 'marine engineering officer', 'navy weapon engineering officer'. Out of these, marine engineering is the highest rewarded field.  
 
Their nature of work is to design, build, test and repair boats, ships, underwater craft (remotely operated vehicles) – ROV offshore platform and drilling operation. They are also responsible for the design and construction of seagoing vessels and structures. They are assured of being safeguarded by their employees and being protected by them.

The field of marine engineering is subdivided into two categories: - (1) Marine Engineers and (2) Shore based marine engineers. The former is engaged with the work related to operations and maintenance of all the ship systems while the ship is in operation having a strong engineering background. The later is more focused on the design, selection, installation and maintenance of equipment on ships or sea base structures. They are also into inspection, surveying and repair of the ship when it is in dry dock. They are sometimes associated with, and take aid of the naval architects.

Many of the marine engineers also have diverted themselves into this field and have given their engineering services coming from the professional field to join hands with them. The type of engineering service given by them is unanimous, working together as a team to provide their best services. They have a sense of determination to deliver their engineering service with due honesty and take pride in offering the same.

The engineering service also includes refit services, repairs and maintenance of a wide range of commercial and naval vessels. On one of the ports situated in the North of Sydney known for providing the best of engineering services for marine vessel conversions, refits, unscheduled repairs and maintenance along with survey dockings has two slipways and extensive wharf-age.

The engineering service provided by the engineers of Brisbane, have also contributed in the refit service for cruise liners, container ships, bulk carrier, warships, tankers, ferries and tugs. Sydney has also provided us with its engineering service with machinery overhaul, structural repairs and routine repairs all requiring the skill of water ship repair. Similarly, Tomago which is a few kilometers away from the Port of Newcastle has given us its engineering service for cargo ships, ice breaker, tugs and luxury cruisers.

About Author :- Keyon Tylor is an expert in marine engineering filed. He has a good knowledge about metal fabrication,ship building, heavy machining and other engineering services. He has also a good knowledge to write blogs related to engineering services and ship building.